Discover a new you with a healthy lifestyle change
TLS Core Fat & Carb Metabolizer
sku C6499
$105.80 CAD
This product qualifies for free or reduced cost shipping. Learn More
Benefits
---
Helps improve healthy glucose metabolism
Helps the body to metabolize carbohydrates
Helps the body to metabolize fats
Helps reduce the (enzymatic) digestion of carbohydrates
A factor in the maintenance of good health
Product Classifications
---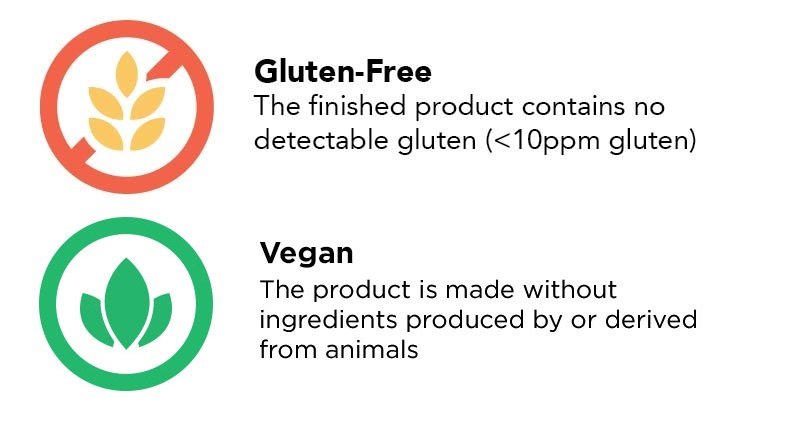 Gluten-Free – the finished product contains no detectable gluten (<10ppm gluten)
Vegan – TLS CORE Fat & Carb Metabolizer is a vegan product
Details
---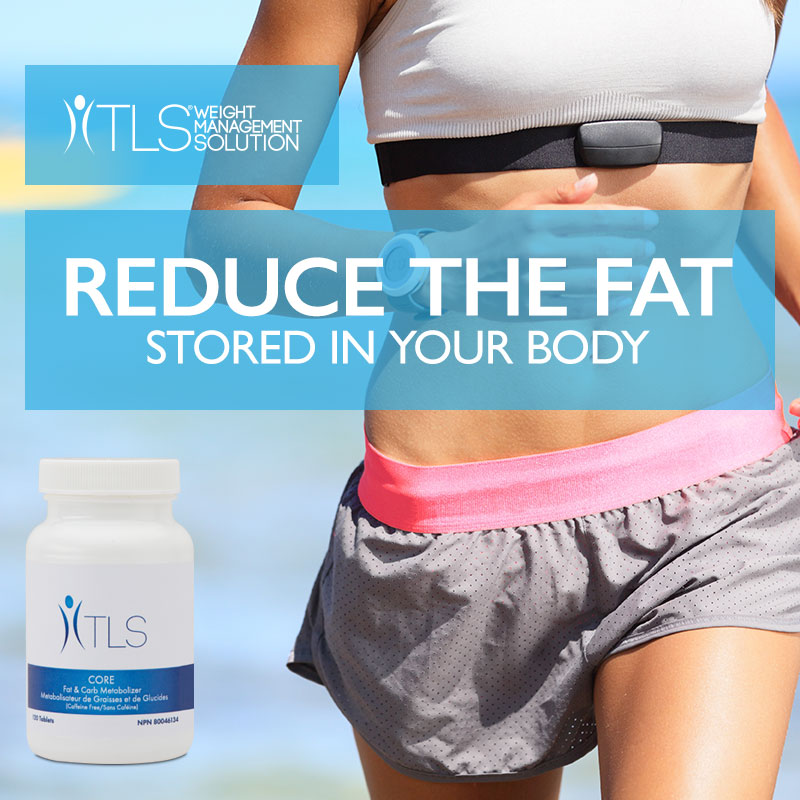 Do you feel like you're always hungry and never full? Have you tried other products on the market but still struggle with your weight? If so, you may be dealing with leptin sensitivity. Leptin is the hormone that, in essence, tells our brain when to eat, how much to eat and — most importantly — when to stop eating. Leptin is secreted by fat; the more fat, the more leptin. However, the people who could benefit most from leptin's effects are those who need it most. TLS CORE Fat & Carb Metabolizer was created to deal specifically with weight management issues. It helps to reduce the digestion of carbohydrates being absorbed by the body. These carbohydrates can elevate blood sugar levels, increasing insulin levels. This can cause the body to store additional fat, triggering leptin, causing you to eat and over-consume. TLS CORE Fat & Carb Metabolizer helps the body to metabolize carbohydrates. First, it contains Lepticore, a clinically-proven, patent-pending ingredient designed specifically to promote healthy weight management. Secondly, it contains Phase 2 white kidney bean extract, another proven ingredient that research shows helps with body weight by blocking carbohydrate absorption which means stopping carbs from being converted into fat. Finally, GreenSelect Phytosome Green Tea Decaffeinated Extract provides potent antioxidant protection while promoting consistent fat metabolism. TLS CORE Fat & Carb Metabolizer helps inhibit the body's absorption of carbohydrates you eat, and reduces fat stores in the body. TLS CORE Fat & Carb Metabolizer, in combination with diet and exercise may help you look and feel great as part of the TLS Weight Loss Solution program! * Phase 2 is a registered trademark of Pharmachem Laboratories, Inc. Ø LeptiCore* is a registered trademark of Gateway healthy Alliance, Inc. † GreenSelect Phytosome is a registered trademark of Indena S.p.A.
Ingredients
---
Chromium
Dietary chromium is an essential trace mineral assisting in the metabolism and use of carbohydrates and fat. Known as the glucose tolerance factor, chromium promotes the delivery of blood sugar to cells thereby helping to maintain normal insulin activity. Chromium also helps maintain healthy levels of cholesterol and other blood lipids. Due to the role it plays in metabolism, chromium is commonly added to natural weight-loss products.
Phase 2* White kidney bean extract ( Phaseolus vulgaris )
Research has shown that supplementation with Phase 2 white kidney bean extract promoted a greater reduction in body weight, body mass index (BMI) and fat mass. Scientifically known as Phaseolus vulgaris , white kidney bean is classified as an amylase inhibitor. Amylase is an enzyme that breaks down starchy carbohydrates into more easily absorbed sugars such as glucose. As individuals age, the ability to use carbohydrates from the diet slows down, causing increased glucose in the blood stream leading to excess storage in the form of fat. Amylase plays a role in the digestion of carbohydrates and subsequently in the absorption of unwanted calories. Supplementation with white kidney bean extract allows certain carbohydrates to pass through the body undigested, stopping them from eventually being converted into fat. This bypass of undigested carbohydrates may reduce and normalize levels of simple sugars (glucose) in the blood.
LeptiCore
LeptiCore – a proprietary, safe and natural complex of plant-based polysaccharides and esterified fatty acids – has demonstrated the ability to enhance weight loss. LeptiCoretargets critical mechanisms involved with body fat storage. By supporting fat metabolism, LeptiCore supports the normal activity of leptin, a hormone involved with hunger signals. Imagine leptin as a mail messenger. Now imagine the brain as a mail box. In overweight people, there is a lock on the mail box and the mail messenger cannot deliver the mail on any day. LeptiCore is the key that unlocks the mail box, allowing mail to be delivered. With LeptiCore , leptin sensitivity is supported. LeptiCore supports the ability of the leptin present in the body to enter the brain and signal the stomach that it is full.
GreenSelect Phytosome Green Tea Decaffeinated Extract
GreenSelect Phytosome is unlike the regular green teas you see on the market today. It is a combination of standardized decaffeinated green tea extract and soy phospholipids (lipids that are composed mainly of fatty acids, a phosphate group, and a simple organic molecule). Phospholipids help to enhance the bioavailability of the green tea. GreenSelect Phytosome helps to promote a healthy metabolic rate by promoting fat metabolism which can help to burn more calories and achieve weight loss. Scientific research has also demonstrated that standardized green tea extracts promote fat oxidation, or the breakdown of stored fat for energy.

FAQ
---
What is the recommended dose for adults?
Take 2 tablets, twice daily, 30-45 minutes before each carbohydrate-rich meal. Do not exceed 4 tablets daily.
In considering the TLS Weight Loss Solution, how important is calorie counting?
The TLS Weight Loss Solution is based on low-glycemic eating and portion control, not calorie counting. Therefore each person regardless of size can follow the system to achieve optimal results. The TLS Weight Loss Solution is based around eating the right kinds of foods to help nourish and fill your body. Counting calories is not a priority when you follow the TLS Weight Loss Solution.
Are fat-free and low fat foods the solution to being overweight?
These foods can definitely play a part in an overall effort to lose weight, but consuming them will not undo a myriad of other dietary downfalls or make up for a lack of physical activity. Successful weight loss and weight maintenance depends on achieving the right mix of diet and physical activity. To lose weight, you need to take in less energy (eat fewer calories) than you expend (or work off) through physical activity. Combining dietary modifications to reduce calories and fat with a consistent physical activity plan is the most effective way to lose weight. Also, focusing on eating a wide variety of lower-GI foods is a great way to appease the senses as well as gain a greater range of vitamins and nutrients in the diet. When you consume an assortment of foods, eating healthier becomes easier and more gratifying. Fat-free and low fat does not always mean low calorie, and these foods are usually not very satisfying.
What are carbohydrates?
Carbohydrates, protein and fat are the body's three main sources of fuel. All three of these sources contain calories; carbs and proteins supply four calories per gram, and fats supply nine calories per gram. When the body burns a calorie – whether from a carbohydrate, a protein or a fat – energy is released. Carbohydrates, however, have the distinction of being the body's predominant and most efficient source of energy.
What roles do carbohydrates play in the body?
Different types of carbohydrates are processed differently by the body and, consequently, have different effects on blood glucose levels. The glycemic index, or GI, ranks carbohydrate-rich foods according to their effect on blood glucose levels. Carbohydrates provide the body with the fuel it needs for physical activity and proper organ function. The best sources of carbohydrates — fruits, vegetables and whole grains — deliver essential vitamins and minerals, fibre, and a host of important phytonutrients. The digestive system handles all carbohydrates in much the same way; it breaks them down (or tries to break them down which is the case for fibre) into single sugar molecules, since only single sugar molecules are small enough to cross into the bloodstream. It converts carbohydrates into glucose (also known as blood sugar) because cells are designed to use this as a universal energy source. The glycemic index measures how fast and how high blood sugar levels rise after consuming foods that contain carbohydrates. White bread, for example, is a high glycemic index food and is converted almost immediately to glucose, causing blood sugar levels to spike rapidly. Brown rice, in contrast, has a low glycemic index and is digested more slowly, causing a steadier and overall lower change in blood sugar levels.
As I lose weight, will the elasticity in my skin adapt to the weight loss?
When you lose weight as body fat, you maintain the muscle and over time through exercise most people find that their excess skin will adapt to their new body and tighten up. It is important that you exercise to improve your muscle mass and tone and help target body-fat loss as well.
Do I have to exercise to see results?
As with most weight loss supplements, this product was designed to be taken in conjunction with a healthy diet and exercise. This is the best and proven way to lose weight. Exercise and healthy eating are essential for optimal results.
Are reduced-fat foods always low in fat?
These types of food are lower in fat than the original, but that does not necessarily mean they are low fat. To know the facts, read the nutrition label and compare the fat content of two similar products with the same serving size.
How are different carbohydrates metabolized in the body?
When a food containing complex carbohydrates – oatmeal, for instance – is eaten, its high fibre content prevents it from quickly leaving the stomach. This results in a feeling of fullness. The food then moves into the small intestine, where the two types of complex carbohydrates – starch and fibre – separate from each other. The starch portion slowly makes its way toward the villi, which are the fingerlike projections of the small intestine that absorb nutrients. By this time, the starch has been broken down into glucose and is ready to be transported to the blood. When the glucose enters the blood, your blood sugar level rises. This, in turn, causes the pancreas to secrete insulin, a hormone that allows glucose to be transported to the cells. When glucose enters the cells, some of it is immediately used as fuel, some is stored in the muscles and liver as reserve fuel, and any remaining glucose is transferred into fat. As glucose is distributed throughout the body, blood sugar levels begin to fall. A very different scenario occurs when a food containing simple carbohydrates is consumed, such as a sugar-sweetened soft drink or a square of fudge. Because foods with simple sugars have little or no fibre to slow their movement through the stomach, it is rapidly transported to the small intestine. Once there, the starch is quickly absorbed into the bloodstream, causing a rapid surge of glucose into the bloodstream and resulting in a spike in your blood sugar level. Soon after, the pancreas, in response to the increase in blood sugar, releases insulin, which immediately begins the task of moving the glucose into cells, resulting in a drop in blood glucose levels.
How does TLS CORE Fat & Carb Metabolizer support weight management?
In the weight loss game, carbohydrates can really pack on the pounds. Carbohydrates can also trigger leptin resistance and lead to higher blood sugar levels, increasing insulin causing the body to store fat. When you work towards your weight loss and healthy lifestyle goals, TLS CORE Fat & Carb Metabolizer works as hard as you. TLS CORE Fat & Carb Metabolizer contains the active ingredient Phase 2, a white kidney bean extract. Phase 2 inhibits the enzymes that normally breakdown carbohydrates into glucose within the small intestine. As a result, the absorption of glucose from carbohydrate-rich foods, such as bread, potatoes, rice and pasta is inhibited. This gives you an advantage by minimizing the effects of surplus carbohydrates that are waiting to be converted into fat within the body. TLS CORE Fat & Carb Metabolizer contains GreenSelect (Green Tea Extract Phytosome), a caffeine free extract from green tea leaves combined with phosphatidylcholine from soybean. Green tea is known for its ability to inhibit the breakdown and absorption of dietary fat. Research has also shown that green tea polyphenols promote a healthy metabolism.
Why is there a soy allergen for this product?
The soy allergen is required because lecithin from soy (non-genetically modified) is used in the creation of the phytosome complex in the GreenSelect Phytosome. This ingredient combines an extract from green tea leaves with phosphatidylcholine from soybean to allow for enhanced bioavailability. There is no added soy protein in this product. This is a highly purified phytosome complex and a high food grade material.

Science
---
Anderson, R. Effects of chromium on body composition and weight loss. Nutrition Reviews. 56(9): 266-270, 1998.
Anderson, R., et al. Chromium supplementation of human subjects: effects on glucose, insulin, and lipid variables. Metabolism. 32(9): 894-899, 1983.
Anderson, R., et al. Elevated intakes of supplemental chromium improve glucose and insulin variables in individuals with type 2 diabetes. Diabetes. 46(11): 1786-1791, 1997.
Blundell, J., et al. Regulation of appetite: role of leptin in signaling systems for drive and satiety. International Journal of Obesity. 25(Supplement 1): 529-534, 2001.
Bray, G. and York, D. Clinical review 90: Leptin and clinical medicine: a new piece in the puzzle of obesity. Journal of Clinical Endocrinology and Metabolism. 82(9):2771-6, 1997.
Cakir, B., et al. Leptin inhibits gastric emptying in rats: role of CCK receptors and vagal afferent fibers. Physiology Research. 56: 315-322, 2007.
Cefalu, W. and Hu, F. Role of chromium in human health and in diabetes. Diabetes Care. 27: 2741- 2751, 2004.
Celleno, L., et al. A dietary supplement containing standardized Phaseolus vulgaris extract influences body composition of overweight men and women. International Journal of Medical Sciences. 4(1):45-52, 2007.
Chow S et al. Pharmacokinetics and safety of green tea polyphenols after multiple-dose administration of epigallocatechin gallate and polyphenon E in healthy individuals. Clinical Cancer Research. 9(9): 3312 – 3319, 2003.
Cohen P., et al. Journal of Clinical Investigation. 108(8):1113-21, 2001.
Di Pierro, F., et al. GreenSelect Phytosome as an adjunct to a low-calorie diet for treatment of obesity: a clinical trial. Alternative Medicine Review. 14:154-160, 2009.
Flegal, K., et al. Prevalence and trends in obesity among US adults, 1999-2008. JAMA. 303(3):235-241, 2010.
French, S. Effects of dietary fat and carbohydrate on appetite vary depending upon site and structure. British Journal of Nutrition. 93(Supplement 1): S23-S26, 2004.
Friedman, J. Nutrition Reviews. 60(10 Pt 2):S1-14; discussion S68-84, 85-7, 2002. Review.
Fox, G. and Sabovic, Z. Chromium picolinate supplementation for diabetes mellitus. The Journal of Family Practice. 46: 83-86, 1998.
Kaats, G., et al. A randomized, double-masked, placebo-controlled study of the effects of chromium picolinate supplementation on body composition: a replication and extension of a previous study. Current Therapeutic Research. 59(6): 379-387, 1998.
Kuate, D., et al. The use of LeptiCore in reducing fat gain and managing weight loss in patients with metabolic syndrome. Lipids in Health and Disease. 9: 1-7, 2010.
Lee, N. and Reasner, C. Beneficial effect of chromium supplementation on serum triglyceride levels in NIDDM. Diabetes Care. 17(12): 1449-1452, 1994.
Martin, J., et al. Chromium picolinate supplementation attenuates body weight gain and increases insulin sensitivity in subjects with type 2 diabetes. Diabetes Care. 29(8): 1826-1832, 2006.
NHPD database:Chromium monograph- 2009-12-09
Obiro, W., et al. The nutraceutical role of Phaseolus vulgaris alpha-amylase inhibitor. British Journal of Nutrition. 100: 1-12, 2008.
Pittler, M. and Ernst, E. Dietary supplements for body-weight reduction: a systematic review. American Journal of Clinical Nutrition. 79(4): 529-536, 2004.
Preuss, H. and Anderson, R. Chromium update: examining recent literature 1997-1998. Current Opinion in Clinical Nutrition and Metabolic Care. 1(6): 509-512, 1998.
Preuss H. Bean amylase inhibitor and other carbohydrate absorption blockers: effects on diabesity and general health. Journal of the American College of Nutrition. 28(3):266-76, 2009.
Qi, Y., et al. Nature Medicine. 10(5):524-9, 2004.
Rabinovitz, H., et al. Effect of chromium supplementation on blood glucose and lipid levels in type 2 diabetes mellitus elderly patients. International Journal of Vitamin and Nutrition Research. 74(3):178-82, 2004.
Sinha, M. Evidence of free and bound leptin in human circulation. Studies in lean and obese subjects and during short-term fasting. Journal of Clinical Investigation. 98(6):1277-82, 1996.
Sparti, A., et al. Effect of diets high or low in unavailable and slowly digestible carbohydrates on the pattern of 24-h substrate oxidation and feeling of hunger in humans. The American Journal of Clinical Nutrition. 73: 1462-1468, 2000.
TalYeh, G., et al. Systematic review of herbs and dietary supplements for glycemic control in diabetes. Diabetes Care. 26(4): 1277-1294, 2003.
Udani, J and Singh B. Blocking carbohydrate absorption and weight loss: a clinical trial using a proprietary fractionated white bean extract. Alternative Therapies in Health and Medicine. 13(4):32-7, 2007.
Udani J., et al. Blocking carbohydrate absorption and weight loss: a clinical trial using Phase 2 brand proprietary fractionated white bean extract. Alternative Medicine Review. 9(1):63-9, 2004.
Venables, M., et al. Green tea extract ingestion, fat oxidation and glucose tolerance in healthy humans. American Journal of Clinical Nutrition. 87:778-84, 2008.
Wang, M., et al. Fat storage in adipocytes requires inactivation of leptin's paracrine activity: implications for treatment of human obesity. Proceedings National Academy of Sciences USA. 102(50):18011-6, 2005.
Widlansky M et al. Acute EGCG supplementation reverses endothelial dysfunction in patients with coronary artery disease. Journal of the American College of Nutrition . 26(2): 95 – 102, 2007.
Zeman, M., et al. Leptin, adiponectin, leptin to adiponectin ratio and insulin resistance in depressive women. Neuro Endocrinology Letters. 30(3):387-95, 2009.
Reviews
---
Core to Flight Carb & Fat
TLS CORE Fat & Carb Metabolizer really is a big helper for me before I eat a carb rich meal. I would eat must less and it helps to block the carb absorption, which means less fat stored in my body! TLS CORE Fat & Carb Metabolizer rocks!!
total health product
My clients absolutely love this products esp. those who are addicted to carbs notice a significant different in their cravings and overall appetite.
TLS CORE
Clients who are carb addicts love TLS CORE. It helps them manage their cravings well.
Amazing
Love this product so much!
Become fat burning machaine
This product really controlled my food overtaken problem!